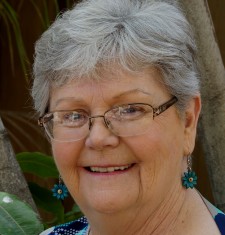 Peg Ford
Peg Ford has always been an independent soul, with a bit of an entrepreneurial "can do" spirit. That spirit was transformed into advocacy when she was diagnosed with ovarian cancer in 2007. Today, you'll often see the perky 69-year woman sporting a teal ribbon: that's the advocacy color for fighting ovarian cancer — the most lethal gynecological cancer.
Born and raised in Toronto, Canada, Peg moved to the West Coast shortly after high school. She has worked in a myriad of fields, including public relations, the hospitality industry, mortgage banking and managing a temporary help agency. She has lived in California, Oregon and London and in 1998 settled "for good" in Coronado.
In late 2006, while walking her friend's dogs one day, Peg fell. "I couldn't get up," she said. "I couldn't lift my arm and my side really hurt." A passing motorist spied her on the ground, gathered her up, dogs and all, and took her to the friend's home. "It's that kind of kindness that makes me love Coronado so much," Peg noted.
But her recovery was slow, painful and seemed unusual for a minor fall. Doctors soon uncovered the reason: ovarian cancer – the fifth leading cause of cancer death in women. "There is still no screening test," Peg said.
Peg had surgery at Mary Birch Hospital to remove a single tumor that had not metastasized. When invited to a support group meeting, her inclination was to not go — "I was really more focused about moving forward, not looking back," she said in characteristic fashion. But she agreed to attend one meeting and was so moved by the horrendous stories she heard there — patients who had endured endless rounds of chemotherapy and side effects and lived in fear of a reoccurrence — that she was moved to begin an advocacy program.
"I told myself there was a reason why I was lucky and I asked myself how could I give back for the great care I received," she said.
Her research led her to the Ovarian Cancer National Alliance "Survivors Teaching Students" program, and after nearly a year of phone calls and networking, she launched the program in San Diego that sends ovarian cancer survivors to medical and nursing schools to share their personal stories about the elusive disease.
Recently, Peg launched the Ovarian Cancer Alliance of San Diego with Kathy Hagan, an Encinitas resident who lost her mother to ovarian cancer. The alliance also offers a similar program to civic groups and organizations throughout the county.
From the initial presentation in 2008 through 2015, they have reached more than 5,700 third-year medical students, residents, nursing students and practicing physicians, as well as area service clubs and women's groups.
Last year Soroptimist International of Coronado awarded them the Best for Women Grant, which will help expand their community outreach programs.
Through her work, Peg has met a number of women who have succumbed to the disease. And while each passing hurts, she says she is able to stay focused by knowing her network is making a difference.
"A nursing instructor contacted me to share that one of her students was listening to our presentation and realized her aunt had all the symptoms. She called and sent her aunt immediately to see her doctor and it was indeed ovarian cancer. They caught it at an early stage. "If we save one life, it's all worth it," she says. (Source: Coronado Lifestyle Magazine, issue March/April 2016, article by Kris Grant.)