Membership Benefits
Soroptimist International of Coronado became a Charter Member of Soroptimist International in October 1947.  The name, Soroptimist, means "Best for Women," and that is what our organization strives to achieve. Our vision is to Build Bridges of Opportunity for Women and Girls through our Luncheon fundraiser and scholarships and awards to help women and girls be their best by taking control of their lives, living according to their values and achieving their dreams.
Soroptimist International is a worldwide movement of volunteers, working together to transform the lives of women and girls. There are over 3000 Soroptimist International clubs in 130 countries and territories. Soroptimists come from a wide diversity of cultures and circumstances, but are united by a passion for improving the lives of women and girls in their community and beyond.
Be an active participant in working to improve the lives of others by joining our local club.  We meet Thursday mornings and offer a variety of programs, entertainment, and meetings where you can share your ideas and learn about other non-profit organizations who focus on helping women and girls.
Remember that by working together as part of our club you will be shoulder-to-shoulder with women who want to make difference.  SI Coronado has been helping women and girls achieve their dreams for more than 60 years.  You will be joining an organization of women who not only are knowledgeable about what needs to be done, but also experienced in taking the steps to eradicate some of the wrongs of this world.
Impact the lives of women and girls who are struggling to overcome challenging, difficult, and seemingly hopeless lives.  Many women and girls live day to day in overwhelming circumstances and need help getting past what feel like insurmountable obstacles.  You can make a difference in their lives and help them to believe in themselves and their dreams.
Don't delay!  Join today!  Check out our calendar of events and attend some program meetings to find out for yourself what it means to be a Soroptimist.  We will look forward to seeing you there.
Genuine, caring and determined women make up the body of our club. We offer our friendship and support to newcomers and long time members alike.  We work hard but also incorporate fun, social events to get to know each woman as the amazing person she is!
Each of us has something to offer.  By sharing your experience, knowledge and talents as part of our club, you will help us make the impossible, possible.
See for yourself the rewards of being a part of a worldwide organization that advances human rights and the status of women. Contact membership@coronadosoroptimist.org for more information.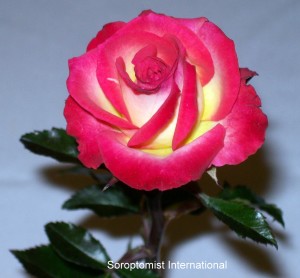 Soroptimist International of Wellington, New Zealand Celebrates 75 Years with the Soroptimist Rose
In 1996, to celebrate their 75th Anniversary, Soroptimist International of South West Pacific gifted a number of Soroptimist International Miniature Roses (propagated by the well-known rose grower Sam McGready) to the Wellington Botanical Gardens. A ceremony at The Lady Norwood Rose Garden was attended by club members and friends with special guest, Lady Hardie – Boys, wife of the Governor General.
Here is the entire article: