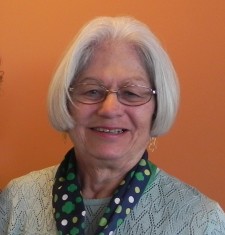 Pearl Szymanski
When Juliette Gordon Low founded Girl Scouts a hundred years ago in Savannah, Georgia we can only hope she had a friend like Pearl Szymanski close by.  Although never a Girl Scout herself growing up, Pearl was clearly born for Scouting; it's her absolute passion.  She has been a Girl Scout Troop Leader in Coronado since 1978, when a friend suggested that Girl Scouts might be a good activity for their daughters who were just starting school.  From the start, Pearl was attracted to the organization's focus on citizenship as it sought to develop "Courage, Confidence and Character" in its girls and young women.  She also appreciated the fact that each troop is different, depending on the girls' interests and skill levels.  It is up to the troop leaders to determine that.  "It's what keeps Scouting interesting," says Pearl, "activities expand as the girls' skills develop."
The depth and breadth of Pearl's involvement is astonishing.  In the 1980s, she planned, organized, and executed the Girl Scout Summer Day Camp on the Strand.  She has been a Coronado Troop Manager, Council Delegate, Council Trainer, Group Leader, Camp Director and Chair of the Older Girls' Cluster for Centre City and South Bay.  She's received two "Thanks Badges" and was recipient of the San Diego Council Leadership Award.  And it runs in the family: both of her daughters were Girl Scouts through twelfth grade.  Her granddaughter Paulette, 20, became a Life Time Scout when she graduated from Coronado High School, and Pearl's youngest granddaughter, Natalie, is in her Daisy Troop, where daughter Michelle (Natalie's mom) and Pearl are co-leaders.
Pearl married Andy Szymanski (of Coronado Fourth of July Parade fame) in 1968, thus bringing Pearl to Coronado.  They have three grown children.  She is an active member of Sacred Heart Church, is Past President of both the Junior Women's Club and the Women's Club, and was a board member of Coronado Youth Soccer.
Coronado Soroptimist congratulates 2013 Legend Pearl Szymanski for her tireless leadership in Girl Scouts, where she has mentored, encouraged, inspired, and shaped the lives of so many girls and young women through her good work.
"The work of today is the history of tomorrow, and we are its makers."  Juliette Gordon Low