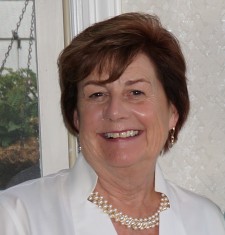 Paula Couture
Every so often Soroptimist Coronado selects one of its own to honor as a Legend, but this is a first for the club, who last year named Paula Bingham-Couture as their first "Soroptimist of the Year."  To say that the two back-to-back honors are well deserved would be an understatement; to say that Paula Couture is the heart and soul of the Coronado club would be more to the point.  Her background in education and service breathed new vitality into the club when she joined in 2005.  Already acutely aware of the challenges women face today in completing their education (i.e. childcare, transportation, and financial hardship,) she believed that the Soroptimist mission was the perfect fit to make a difference in that area.  Education and other core women's issues such as Human Trafficking are close to the Soroptimist heart, and Paula got right to work.  The Kansas City girl who had never been west of Colorado until enrolling in Arizona State University, arrived in Coronado like she'd landed in Oz, teaching French in the Sweetwater Union High School District, raising a family, and pursuing two Master's degrees.  By the time she finally retired, she was the Director of the District of 40,000 students!
That "retirement" brought Paula to Soroptimist International Coronado, where her list of constributions is long.  She served two terms as SIC President, was Vice President Membership, Parliamentarian, Legends Luncheon co-chair (2 years), liaison to Monarch School for homeless children (established 2 SIC scholarships for female students,) SIC Finance Committee, Living Your Dream Grant Writer (Helping Women Stay in School; 2 years,) District III Leadership Council, and Southwestern College Women's Resource Center Mentoring Program.  Plus, she has volunteered to be next year's Legends Luncheon Chair (again)!
Paula's comfy house, with her perpetually blooming garden, is "meeting central" for just about every SIC committee.  She and husband Jack spend every summer in Seabeck, Washington, serving Jack's fresh Catch of the Day to visiting family and friends. In 2005, Paula organized a small group of local French-speaking women ("Les Precieuses") who meet weekly to sip French wine, sample French cheeses, and practice their language skills.  The woman is definitely not in Kansas anymore.
"When you do things from the soul, you feel a river moving in you, a joy."  Rumi