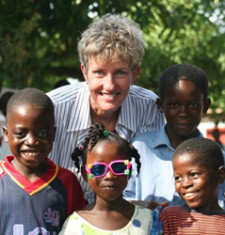 Deborah Lindholm
Foundation for Women is a non-profit organization that offers programs and community services to help women of all ages who are in need.   Lindholm founded Foundation for Women out of her own home in 1997. The foundation provides a venue for self-esteem, kinship and a connection for women. FFW offers their services to women who seek to create a better quality of life for themselves and their families. Since its inception, the foundation has provided over 250 programs involving 2,500 women and families locally and internationally.
Foundation for Women schedules programs specifically for women dealing with life-threatening diagnosis through its Wellness Connection and Meditation and Support Group, and assists homeless women in the community through the Homeless Women Companionship program. To help these impoverished women, Foundation for Women offers financial support to them by extending small loans and saving plans to them through the Microcredit Program. By doing so, the women are empowered, able to provide for themselves and their families, all while maintaining their dignity and escaping the poverty cycle.
Since receiving the 10News Leadership Award in 2002, Lindholm has also been inducted into the San Diego County Women's Hall of Fame (2006). She continues to forge ahead to expand her work at Foundation for Women. In 2002, Foundation for Women opened four Microcredit projects in Tami Nadu, India. Today, those projects have reached out to over 80,000 women who in India who live on less that $1 a day. In 2006, she established connection with Liberia's first female President, Ellen Sirleaf, and met with Vice President Joseph Boakai, introducing the first of six Microcredit centers there, which has helped 100 women to date. Lindholm plans to create more Microcredit centers in all 15 counties in Liberia to help all the impoverished women there by 2008.
With a focused vision, determination and a heartfelt passion for reaching out to women, the foundation has successfully touched the lives of thousands of women, through nurturing, educating and providing support; not only within the San Diego community, but also in India, and in the African nations Liberia, Niger and Zambia.