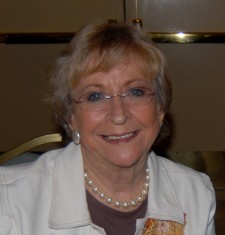 Chloe Moore
Chloe Moore exudes a quiet persona that belies a strong-as-steel character that has led her through some of life's most turbulent trials and has enabled her to emerge as a compassionate tower of strength for others on life's journey.
Chloe grew up in Modesto, Calif., and obtained her bachelor's degree and teaching credential from the University of the Pacific in Stockton. While teaching in the San Francisco Bay area, she met her husband, naval aviator Ernest "Mel" Moore who was training at nearby Moffett Field. The couple married in 1955 at the Navy Post Graduate School in Monterey and their happy military life began. But then came Vietnam.
In 1967, Cmdr. Moore was an A4E Skyhawk pilot and the executive officer of an attack squadron assigned to the USS Ticonderoga, which conducted airstrikes against targets over the dangerous Iron Triangle region of North Vietnam. Chloe still remembers the spring day in 1967 when she was notified that her husband was listed as missing in action. "I was told he had ejected and parachuted into a rice paddy," she said. "And then I never heard anything for two and a half years."
She was left in limbo. "I didn't know if I was a widow or a wife," she said. Living at Naval Air Station Lemoore, Chloe had three daughters — Michelle, Melissa and Leslie — ages 10, 8 and 2, to care for. She gained strength, she said, through her association with other Navy wives, most notably Sherry Martin, whose husband, Ed, was shot down at almost the same time. "I just knew that Mel was alive," Chloe said and confirmation came in the form of a tiny "Seasons' Greetings" card. "It was Mel's handwriting," she said.
Looking back at her six years as a "single" parent, Chloe said she rose to the challenge by being organized, which she said is a common trait among Navy wives. She continued to teach school and found time for volunteer work, which began within schools and then extended to hospitals. When the POWs returned home in 1973, Chloe said they all had to adjust to their wives' growth and independence. "I had bought a car, managed a household, replaced refrigerators and tires, raised our daughters and even moved to Coronado, where I bought us a house on Alameda Boulevard," Chloe said. "I never told Mel how much I paid for it. He would have died. But I had obtained a real estate license, and I knew what I was doing."
She began volunteering at UCSD Medical Center (now UC San Diego Health) in Hillcrest in the early 1970s. "I wore a pink coat and worked at the front desk and served as a board member of the auxiliary," she said. While there, she was asked if she would help to establish a new facility — the Bannister Family House for families of seriously ill or injured patients who were undergoing treatments or surgeries. Chloe said this volunteer effort has been her "true love." As part of a five-person council, Chloe helped design interiors including furnishings, linens, accessories, for the home that includes a large community kitchen, TV room, computer room, library, laundry and bedrooms. "I love decorating, and we went all over the country, looking at other houses to get ideas," she said.
At age 83, Chloe continues to be actively involved, serving a monthly meal at Bannister Family House.
"I just listen to people," she said. "I might open a conversation by asking, 'How'd you luck out and get in here?' People need to talk, especially during difficult, scary times. The best interaction is to watch the families work with each other; they understand the stress and strain of having a child dying or a husband in critical condition.
"We all need human interaction," Chloe continued. "In fact, if I'm really feeling down, I go over there and talk to people. I come away feeling that I don't have a problem in the world." Chloe said she feels blessed to have had three daughters (and now six grandchildren). "I just didn't know anything about raising boys," she said, noting that she had a sister but not a brother. "Maybe that's why I was first drawn to Soroptimists; its mission of empowering women throughout the world appealed to me." (Source: Coronado Lifestyle Magazine, Kris Grant)