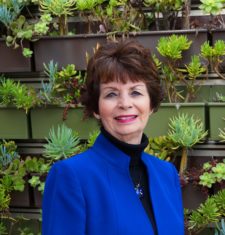 Cathy McJannet
Her professional life has been dedicated to nursing, teaching, administering, mentoring, and helping others.  Cathy was born in Halifax, Nova Scotia and she was one of five children. Her mother was a teacher and her father, a Canadian military officer who served in World War II, and then worked for General Motors.  The family moved to the province of New Brunswick, which is where Cathy's love for the nursing profession began.  As a teenager she worked as a hospital volunteer, and then went on to study nursing getting her RN at Moncton Hospital School of nursing, and later she earned her Bachelors and Masters Degree in Ottawa and San Diego.
Cathy first came to California after receiving her RN, and after two years returned to Canada and joined the Canadian military, where she served as a nursing officer for nine years, and it's where she met her husband Larry. They married in 1979 and moved to Coronado in 1990. Cathy, who had left the Canadian Military, became an emergency room nurse at what was then Coronado Hospital and later became Sharp Coronado Hospital.  In 1993, when they were due to return to Canada, Larry was offered a job at the Canadian Consulate in San Diego as an International Trade Officer, and they have remained here ever since.  Larry is currently working as the Executive Vice President at ESET, which is a large computer anti-virus firm.  Married for 37 years, Larry and Cathy have a son, Ian, who lives in San Diego.
Driven by her belief that education is a lifelong experience, Cathy became a teacher, while still working in the emergency room.  Starting as a nursing professor at Southwestern College, she is now the Director of Nursing and Health Occupation programs at the college.  She is a faculty member at UC San Diego Extension and a Healing Touch instructor at Sharp Coronado's Sewall Healthy Living Center.  After 27 years Cathy still does shifts in the emergency room at Sharp Coronado Hospital.
Her accomplishments don't stop with her duties as an emergency room nurse, hospital-based educator, college nursing professor, and nursing director.  She devotes her life to making a difference for others.  Last year she started Cathy's Closet at Southwestern College to provide professional clothing for young women (including a few items for men) looking for employment.  Cathy has also been instrumental in seeing that students get help in preparing for interviews, including bringing in professionals to conduct mock interviews with them.  She's been involved in community outreach through Southwestern College since 2000.
Cathy developed a grant through the Coeta & Donald Barker Foundation in 2010 that provides full scholarships to 16 nursing students annually, and she has raised approximately $50,000 for San Diego Emergency Nurses Association for nursing scholarships.  Since 1978 Cathy has volunteered for the American Heart Association, promoting community education related to heart failure and strokes.
This year's Legend has been a mentor for young aspiring nurses for years. "On a monthly basis, I am contacted by strangers, usually young women, for career guidance."  Most of them have been referred to her by colleagues, some have attended her workshops, and others have heard about her through word of mouth, and Cathy always makes time for them.  These young people contact her through e-mail or phone.  "I rarely get to meet them.  I assist them with problem solving issues, and I give everyone my contact information; it's clearly passed around."  The advice they're seeking ranges from how do I find a job, to questions about how does one survive as a new graduate in the ER, and sometimes their queries  are as basic as how do I become a nurse.
Cathy has been a member of Soroptimist International of Coronado since 2010. "Once I learned about the mission and philosophy of Soroptimist International, I quickly joined."  She works on the organization's scholarship committee and is coordinator for the two Southwestern Soroptimist International Scholarships which are granted every year. She has also worked with Mary's House through her "Soroptimist role" to provide continuing education course scholarships for women who have been victims of human trafficking.
Cathy does find time to get away from her busy lifestyle here.  She took her first cruise, somewhat reluctantly, in 2008 and fell in love with exploring by sea.  Besides traveling she loves to read, and of course, her favorite past time is spending time with family.  Her husband Larry said that despite Cathy's exceptional career and accomplishments "family has never gone without her time and devotion.  She is quite an exceptional woman."  We wholeheartedly agree.