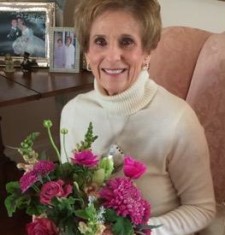 Carol Raiter
Carol is loved and admired, in large part for her leadership and generosity of time and talents. Her eye for design and business savvy flourished RT Interiors, her Interior Design business started in 1979.  She has been generous with her design talents donating designs for Coronado Hospital's maternity floor, Coronado's Nursing home, Children's Hospital and the waiting room for foster kids at the San Diego Court.
That  willingness to share her business knowledge, relationships and creativity only grew and she continued to help others live their dreams. She started the Coronado Schools Foundation Gala, The United Through Reading Gala, Coronado Historical Association Gala and made changes to the Soroptimist Luncheon that has led to the event's success today. She has also chaired countless other events including two galas for the National Charity League; the first, second and fifth "Celebrate Children" galas. She has served on the Coronado Schools Foundation board and is currently on her sixth year of the Coronado Historical Association Board.
Carol and her dedicated husband, Eric, an always willing helpmate of Carol's philanthropic efforts, have 3 children and 7 grandsons. Carol has been a Soroptimist since 1999 and was Soroptimist of the Year in 2008.